Foxtrotter Clinics
Mike Owens
Willowbank was privilaged to have Mike Owens visit New Zealand for two weeks in 2013. Mike is one of the best known and most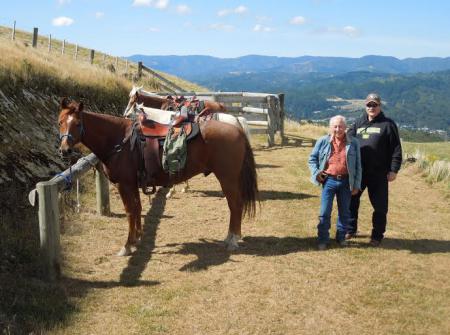 successful Foxtrotter trainers in the USA. He runs a horse farm in Strafford, Missouri with his wife Angelia. Mike has had Foxtrotters since he was a small child and his training and breeding programs are designed to preserve the foxtrot gait. He has been successful in the show ring throughout his life but his true love is trail riding. Mike has been a carded judge for several years and has given many seminars, along with serving as President of the Missouri Foxtrotting Horse Breed Association.
Mike rode and shared his knowledge with us at Willowbank and also held a two day clinic for some lucky few. The clinic covered all aspects of how to ride a foxtrotter, demonstration of the gaits and how to identify them. Mike also reviewed all aspects of the difference between riding gaited and non gaited horses. The riders taking part in the clinic all rode Willowbank Foxtrotters and finished with a trail ride on the Sunday.
Mike has a strong belief that the Missouri Foxtrotter is the best horse that anyone could ride on the trail, and he enjoys educating others. Thanks Mike for taking time out of your busy schedule to visit us at Willowbank.